Upcoming Irish Wolfhound Events
We will have the hounds out and visiting at the following events:

We'll have the hounds in Winston Salem, NC for the 2017 Holiday Parade. Our fellow Irish Club, the Winston Salem Irish Wolfhounds Gaelic Football League has asked us to act as mascots for them during the parade. The parade will kick off in downtown Winston Salem at 5pm and end at 6:30pm with the tree lighting.

You can email me or visit the IWAMS Facebook page below for any upcoming club events.

​For more information on the Irish Wolfhound Association of the Mid South:
www.iwams.org

Irish Wolfhound Association of the Mid South Facebook Page: https://www.facebook.com/groups/IrishWolfhoundAssociationoftheMidSouth/ ​

The 5th Annual Irish Wolfhound Heart Screening Clinic will be held at NC State Veterinary School Cardiology Department spring 2018. More information forthcoming.
Hello! Welcome to the web home of Ierne Irish Wolfhounds. We are a small, inclusive kennel near Raleigh, NC and we enjoy sharing our love and passion for this ancient and unique breed with those interested in learning. We are dedicated to preserving the correct type and functional beauty of the Irish Wolfhound.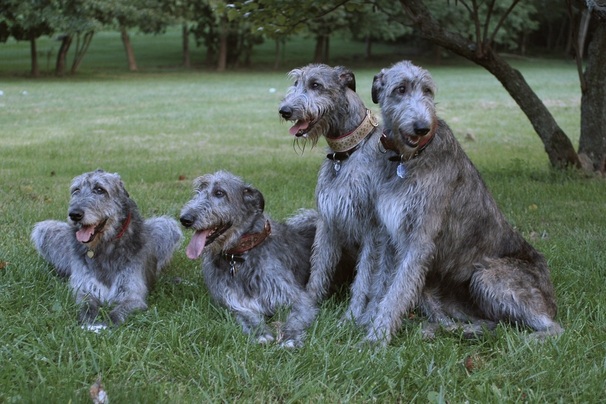 Ch. Ierne's Aine Ni Fear Mor (Grandmother)
Ch. Ierne's Sorcha Ni Shirey, JC (Mother)
Ch. Ierne's Stella Artois (Daughter)
Ierne's La Folie (Daughter)
All three generations health tested, two generations CHIC certified
Photo copyrighted by Carolyn Dean

We're committed to educating ourselves and others about the potential for health and longevity in the Irish Wolfhound, and this is the purpose of this site. Our breeding program is based on attempting to improve both while maintaining quality hounds who typify the standard of the breed. We participate in the Canine Health Information Center's CHIC certification program with our hounds. We try to health test as many of our hounds and their offspring as we can, regardless of their inclusion in our breeding program. We believe in order to have a comprehensive knowledge of the health of a breeding line you need to look at the pedigree horizontally as well as vertically. This means the health status of siblings, aunts, uncles and cousins must be considered prior to breeding, not just Mom, Dad, or Grandma and Grandpa. If you are interested in purchasing a purebred dog, regardless of breed, you should visit the Canine Health Information Center website and learn about CHIC certification. You can follow this link to learn more:
http://www.caninehealthinfo.org/
If you've been considering adding an Irish Wolfhound to your family we recommend familiarizing yourself with the health and longevity concerns of the breed. Spend plenty of time researching both the breed and breeders. If you have additional questions not answered on these pages, or just want to meet some hounds, please feel free to email us, we're happy to provide guidance and the opportunity to spend time with the hounds.
The purpose of this site is to be a learning tool and resource for those interested in the breed. You will need to understand breed related health concerns if you are to be a good steward and advocate for your hound. There is some information on these pages and you're welcome to hang out as long as you like. I also recommend following up by visiting the online home of our parent club, the
Irish Wolfhound Club of America
and our health foundation, the
Irish Wolfhound Foundation
, clicking on the names of these organizations will take you to the correct site. I encourage you to explore and be prepared with questions once you begin talking to and visiting breeders. If you live local to North or South Carolina, Virginia or West Virginia I recommend contacting the
Irish Wolfhound Association of the Mid South
for information regarding local breeders or rescues. This group also holds multiple events a year where you can meet both wolfhounds and their owners to learn more about the breed.
My love for Irish Wolfhounds started in third grade when I discovered them in a 1940s breed book. It described the wolfhound as being of great size and commanding appearance with it's past "lost in antiquity". I was a young girl, romantic, of Irish heritage and madly in love with animals, I was hooked. I looked forward to the day I could add an Irish Wolfhound to my home. This took another 20 years. I bought my first Wolfhound, Kaila, from a breeder in Kansas in 1991. She wasn't a very good breeder, something I recognized immediately when I saw two sad little pups sitting in the back of a pick up truck. I had already worked in veterinary medicine for several years and knew I was only perpetuating the problem by buying either one of them. But I just couldn't bring myself to leave them in the back of that dirty truck. I offered her $800 for both puppies and she said SOLD! (Probably followed by Sucker). Kaila was beautiful to me, but not necessarily as beautiful to the judges when over time I decided I wanted to show her. It didn't matter though, she was still my dream come true. She loved coursing and made her mark on the field, finishing her career in the top 10 in ASFA (
American Sighthound Field Association
) in the early 90s.
My husband's love of Irish Wolfhounds started when he met me, right after he got over how big the 6 month old puppy was (she dwarfed his Border Collie) and that she really was just 6 months old. You have to love a man who offers to take you on a dog walk for your first date. We've had the luxury of owning many beautiful hounds since... and I'd like to share a few of them with you on these pages. If you're interested in being owned and loved by your own hound please visit the website of our National Breed Club,
The Irish Wolfhound Club of America
to learn more.
We only rarely and selectively breed so we may not be your first choice when looking for a hound, however I do know many breeders in our community and can direct you to one who is both reputable and will have puppies available soon. If you are looking for a puppy then please visit the page "Muirne & Liver Shunt" before deciding on a breeder. It is important breeders screen their breeding stock for hereditary diseases, but it is negligent if they place a puppy in a home without first screening for liver shunt. Please take a few minutes to understand this hereditary condition and don't be afraid to demand breeders screen. If a breeder tells you they don't screen because its not a problem, go elsewhere for a puppy, there isn't a breeding line of Irish Wolfhounds that isn't at risk of producing a shunt puppy. Reputable breeders aren't easy to find, they typically don't advertise on puppyfind. A few have a website you can go to for information on their hounds, but most do not advertise at all. This means if you find yourself considering a breeder advertising through puppy selling sites you should proceed with caution. As members of the Irish Wolfhound Club of America we commit to being stewards of our breed. This means to do our best to produce hounds that meet the standard, are sound, healthy when bred, and are free of obviously inheritable diseases. We work not to exploit our breed. The breeding and showing of Irish Wolfhounds should be about perpetuating the breed, not populating it. We should work to bring the best forward with each successive generation. This means breeders acting responsibly, both in the best interest of the puppy AND the best interest of the new owner will not do the following:
They will not advertise on internet sites set up ​specifically for the commercial sale of puppies.
They do not take deposits. If they've vetted you and feel you will make a great home they'll commit to you just as you're expected to commit to them.
They will want a premise check of your house prior to sending you the puppy. This entails an experienced wolfhound owner coming over, visiting with you, discussing where the pup will sleep, eat, how many hours a day he'll be left alone, and where he will exercise and play. They will give advice on fencing, stairs, and positioning of furniture. They'll help you identify things in your home that may present a danger to your new puppy.
They will provide certification of health testing done prior to breeding, and completed by veterinarians specializing in those aspects of health. The standard should be heart, hips, elbows and eyes.
They will provide bile acid testing on ALL puppies prior to going to their new homes. This protects both you and the puppy from what can be a very tragic diagnosis.
They won't have a complicated contract. It will usually be 1 to 2 pages and address breeding, sterilization, recommendations for vaccination, feeding, exercise, registration and disposition of the pup should you ever be unable to keep it. A reputable breeder will expect the pup to be returned if something in your life changes and you can't keep him. It won't matter his age, they'll want to involved in the process of rehoming the pup. The contract should request you get the pup to the vet within the next week and it will have a 1 year health guarantee for hereditary health conditions.
Reputable breeders usually don't differentiate on the price between male and female or show and companion quality. It costs exactly the same to provide a well socialized companion puppy as it does to provide a well socialized show puppy.
Reputable breeders don't charge more for full versus limited registration. If you have never bred before a reputable breeder isn't going to encourage you to breed. They will encourage you to get involved in our community, visit other owners and dabble in showing, lure coursing or obedience... They'll want you to get to know the breed, fully understand structure, temperament and movement and once you have a good knowledge base with which to make decisions they'll support you through your first litter if you choose to make that commitment to the breed.
The breeder will make the decision of whether the puppy is on full or limited registration based on whether the puppy is of a quality to be bred, not on whether you want to breed or not. They will encourage you to learn before breeding, not to just jump in.
You will not see paypal links on their websites where you can click on the link and leave a deposit. They will never take your money until they are sure the two of you are a good fit for each other. They want to get to know you, get to know your family, and make sure you're making a good decision for everyone involved. You can't just hit a paypal button, leave a deposit, and have you send them a puppy.
Reputable breeders don't market their dogs, don't get me wrong, they're proud of their accomplishments... but it isn't about selling puppies, it's about preserving a beautiful and noble breed.
Just because a potential breeder shows their dogs doesn't mean they're reputable breeders. There are plenty of breeders who market their dogs through online, puppy sale websites and who also show. Pay close attention to what they say to you. If they say things like our dogs are known for their "health" "longevity" "wonderful temperaments" "phenomenal size" then steer clear. A reputable breeder will give you an honest picture of the breed. They won't use sound bites you want to hear just to lure you in to buy a puppy from them. And that's what the above are, they're marketing sound bites. A breeder cannot fully guarantee you'll have your hound for 10 or 12 years. There isn't a breeding line of Irish Wolfhounds out there that hasn't dealt with some life threatening medical issue, be it lymphoma, osteosarcoma, seizures, bloat or atrial fibrillation. Be aware of this and understand showing isn't the same thing as commitment to quality. I'll be honest, you could dress up a pig in an Irish Wolfhound suit and with the right handler in the all breed show ring he'd probably finish his championship. Showing, like breeding, is only useful when used as a tool to guide instead of a tool to market.
A reputable breeder won't place a puppy before the age of 10 weeks, this allows them to become well socialized with other dogs through their mother and littermates. It also allows for liver shunt testing to be completed and results returned. This should be a non-negotiable for new owners.
If, when asked, a breeder tells you they don't show at the Specialties or belong to the Irish Wolfhound Club of America because those breeders are "to political" or "to cliquish", or "they just don't like me because they're jealous" consider walking away. Our goal is to invite every new member, visitor or breeder to our specialties and gatherings. Our hope is we can educate them enough that they'll understand the damage being done to the breed when breeding strictly for profit. However, sometimes these breeders don't want to hear this, and that's when the blame game begins.
Beware of breeders who advertise size... "All our hounds are between 32 and 36 inches" or color "We have all colors including blue, black and pure white". A responsible breeder isn't going to look past the hound being within standard. They won't care if the pup is 32, 33 or 34 inches at the shoulder when grown, as long as it has a well laid back shoulder, a reaching gate and balanced movement. Once he/she is within the standard we never pay attention again. We're not trying to breed the biggest dog, we're trying to breed a well put together, large galloping hound who is of commanding appearance, balanced and with the look of eagles in his eyes. His size within an inch or two and his color have no bearing on that. He can be just as commanding if he were purple with yellow polka dots. These are also marketing tools to sell puppies.

Being a good steward means protecting the breed from exploitation, and over breeding equals exploitation. We don't want to go the route of the Dalmatians in the 1970s, or the Labradors, Yorkshire Terriers or Shih Tzus today. These breeds are regularly found in rescue, emotionally damaged, confused over the loss of their families, or used to make designer breeds whose biggest selling point is often the cute mixed names they've been given, Chiweenie, Puggle, or Doodle something. These breeds are at risk, we want ours to stay safely within our stewardship.

If you want to learn more about what to expect from a responsible breeder, and what it means to be a good steward of the breed, please consider reading the
Standard of Behavior for breeders
on the IWCA's website.
​
While on our way back from the
Rocky Mountain Irish Wolfhound Association
Specialty in 2009 we stopped in St. Louis to visit our good friends Carolyn Dean and Maureen McCreery. Carolyn, a professional photographer, graciously agreed to take the picture above of our three generations together. I want to thank both Carolyn and Maureen for their friendship and support over the years… I am a much better person for having known both of them.
The beautiful collars the girls are wearing were made for them with love by their Aunt Maureen and you can find similar collars for your own hounds at Carolyn and Maureen's online store
www.fuzzywumpets.com
. These have been the best collars, durable, comfortable and machine washable.
And to show that dog shows aren't always so serious, here is a little light entertainment for your viewing pleasure. This is a
Video of Aine, Sorcha, Stella, and Nora playing cowboys
during the team class at the Rocky Mountain Irish Wolfhound Club's Specialty.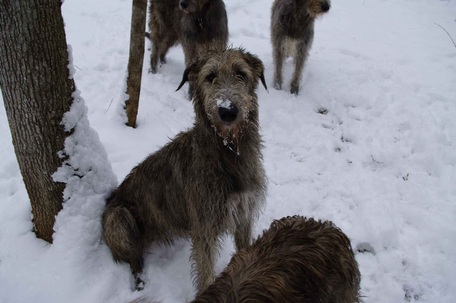 I will give thee a dog which I got in Ireland. He is huge of limb, and for a follower equal to an able man. Moreover, he has man's wit, and will bark at thine enemies, but never at thy friends. And he will see by each man's face whether he be ill or well disposed towards thee. And he will lay down his life for thee. ~ The Icelandic Saga of Niall