The top ECG strip is of a heart with Atrial Fibrillation, you can see how disorganized the heart rhythm appears. The red arrow shows the lack of a "P" wave. The P wave indicates the atrium has contracted. The bottom ECG strip shows a normal heart rhythm. You can see the blue arrow pointing at the "P" wave. This means the atrium has contracted normally.
Atrial Fibrillation (A Fib)
The heart is a muscle and has four chambers. There are two chambers on top (Atrias) and two chambers on the bottom (Ventricals). Their job is to receive blood from the body needing to be re-oxygenated, move the blood into the lungs to be oxygenated and then move the newly oxygenated blood to the body. The heart pumps when it is stimulated to do so by electrical impulses. There is a small area of tissue called the sinoatrial node (SA node) which starts the electrical impulse which then travels down electrical tracts in the heart causing it to contract and pump blood. A healthy heart will contract in a coordinated fashion. We record these electrical impulses on an electrocardiogram (ECG).
Humans, horses and Irish Wolfhounds can acquire a condition known as Atrial Fibrillation. This condition is rarely seen in small dogs or mammals, their heart chambers are just too small and lack the surface area to support this irregularity. When a human, horse or hound acquires A Fib without any other known heart disease in conjunction it is known as "Lone Atrial Fibrillation".
Atrial fibrillation is an irregularity of the heart's rhythm, medically called an arrhythmia. It happens when many areas of the atria start sending out electrical impulses, trying to tell the heart to contract, instead of just the SA node. It's a bit like having too many chefs in the kitchen. The heart's rhythm increases and becomes erratic. The increased activity spreads across the atria and it begins to quiver, not unlike shaking a jello mold. This is called "fibrillation". It is very disorganized, and because of this erratic activity only a few of the electrical impulses actually manage to travel down through the heart's conduction system and make the heart work as it should. This makes the ventricles beat irregularly.
Atrial Fibrillation is considered genetic in Irish Wolfhounds. According to the Irish Wolfhound Foundation 12-13% of Irish Wolfhounds will develop this disease in their lifetime. It is highly recommended to begin getting annual ECGs and Echocardiograms at, or close, to two years of age as a way to screen for this potentially life threatening disease. If diagnosed early your hound can have a long, happy life well controlled on medications. If not diagnosed Atrial Fibrillation can progress, causing damage to the heart and eventually leading to death. I've included a link below to the Lifetime Irish Wolfhound Cardiac Study and two videos on understanding how Atrial Fibrillation develops.
If you live local to North/South Carolina or Virginia there is an Irish Wolfhound Heart Day held every year in March at the NC State Veterinary Cardiology Department. The cost is minimal for an ECG and Echocardiogram. If you are not local or are willing to travel with your hound the Irish Wolfhound Foundation has low cost (and free to veteran hounds) ECGs and Echocardiograms available at many of the Regional Irish Wolfhound Specialties and at the Irish Wolfhound Club of America National Specialty. These clinics are run by Dr. Bill Tyrell, boarded Cardiologist, and the excellent team at the Irish Wolfhound Foundation. You can also use the link below to find regional cardiac clinics. If you're interested in the clinic at NC State contact us through the Irish Wolfhound Association of the Mid-South by clicking below:
Irish Wolfhound Association of the Mid-South
Further information on the studies of Atrial Fibrillation in Irish Wolfhounds and for information on Regional and National Heart Clinics with Dr. Tyrell and the IWF team click the link below:
Lifetime Irish Wolfhound Cardiac Study
Two videos on both normal heart rhythm and on what happens to the heart with Atrial Fibrillation are below:
---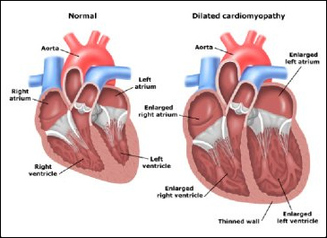 Dilated Cardiomyopathy (DCM)

Under Construction
---
---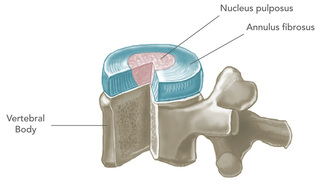 Fibrocartilaginous Emboli (FCE)
FCE is a condition that causes a debilitating paralysis in Irish Wolfhound puppies. In most dogs this disease is seen in middle aged to older animals, but that is not necessarily the case in our breed. It usually presents as partial or total paralysis in an otherwise normal puppy somewhere between 6 to 16 weeks of age. It's not unusual to let the puppy out to potty and play, or to put him/her in the crate for bed and when you go to retrieve the puppy you find him or her paralyzed.
So what happened? How does a perfectly healthy, happy puppy end up paralyzed? If you take a look at the picture of the vertebral body in the picture you'll notice the pinkish interior called the nucleus pulposus. An FCE occurs when a small amount of the gel like nucleus pulposus escapes the interior of the vertebral body and causes a blockage of a blood vessel, this is called an embolism. The cells fed by that blood vessel are damaged and die. This is the root cause of the paralysis. We don't really know what causes the damage to the vertebrae allowing the nucleus pulposus to initially escape. We also don't have a clear cut way to diagnosis the disease. This makes it particularly difficult for well meaning veterinarians. They're presented with a puppy with a disease that typically does not present in puppies and which can only be diagnosed by ruling out every other disease which may cause paralysis. This impossible scenario is all the more reason why you, as a new wolfhound owner, need to educate yourself and provide information on this disease to your veterinarian BEFORE your new family member is possibly afflicted. The majority of veterinarians unfamiliar with Irish Wolfhounds are going to be reluctant to diagnose FCE in a puppy, so you need to be prepared to provide them with the information they need either before, or at the time of presentation.
The timing of treatment is critical with FCE. You want to get the puppy to the Veterinarian as soon as physically possible. This IS an emergency and should not wait till morning if found in the middle of the night. It has traditionally been initially treated with steroids followed with long term physical therapy. There has been recent studies which show steroids may not be necessary, however quickly getting an assessment of the puppy's condition and beginning therapy is critical.
There are concerns that a genetic component may be present, but at this time there is no definite answer. The University of Utrecht has done some studies on this condition in wolfhound puppies, but the jury is still out on whether or not this is genetic.
There is more information on FCE on the Irish Wolfhound Foundation website, as well as a synopsis of what to expect in treatment therapies. This condition can be treated successfully in many incidences, but it will take a significant amount of time commitment on behalf of the owner. Click on the link below for more information on FCE.
More written by Ellen Kroll on FCE in IW Puppies
---
---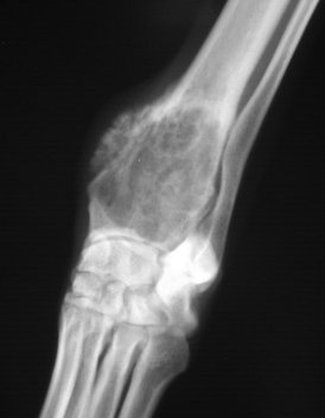 Osteosarcoma (Bone Cancer)
Osteosarcoma is a cancer seen commonly in large and giant breed dogs, including Irish Wolfhounds. It is considered genetic in many instances, though there is potentially an injury component where certain dogs are concerned. It typically exhibits as lameness, either intermittent or non-weight bearing. If pressure is placed on the long bones it often elicits a pain response. This is a very painful cancer and the choices for treatment are limited. The cancer has often metastasized before diagnosis making this a very difficult cancer to catch and cure. It isn't uncommon for the treating veterinarian to recommend amputation. This is always a difficult decision (and a personal one) for the owner of an Irish Wolfhound to make. Do you risk removing the leg on such a large hound? Will they be able to cope? The goal of amputation is almost always to alleviate pain, but what impact will it have on quality of life? There are multiple options for pain control with bone cancer including radiation therapy and medications. I've included a link below where you can review some of these therapies if needed.
The Irish Wolfhound Foundation has encouraged the wolfhound community to share blood samples of hounds diagnosed with bone cancer with the Broad Institute with the hopes of finding the genetic link for bone cancer in Irish Wolfhounds. If you want to know more about this study you can follow the link below to the study on the IWF website.
Broad Institute Bone Cancer Genetic Study
There have been recent studies showing a correlation between early sterilization (spaying or neutering prior to 2/3 years of age) and an increased risk of bone cancer at adulthood. This has a lot of breeders and owners concerned and asking the question, "What time is the right time to have my hound neutered?". This is a valid question and the risks should be discussed with a veterinarian who is well read and knowledgeable about current health studies regarding early sterilization and increased health risks. If you are considering adding a wolfhound to your family I recommend talking to potential breeders about the prevalence of bone cancer in their lines. You cannot escape bone cancer in Irish Wolfhounds, but you can limit your risk by choosing family lines with limited numbers of hounds passing from this disease. It tends to present in middle age (between 3-5 years) and is devastating for both the hound and your family. I've included links to the Irish Wolfhound Foundation on palliative care of bone cancer and to a risk analysis article on early sterilization.
Irish Wolfhound Foundation - Palliative Care for Bone Cancer
Canine Sports Medicine - Early Sterilization, What are the Risks?
---
---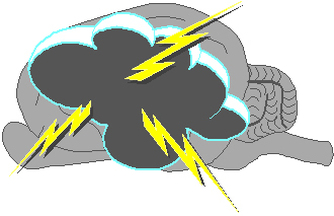 ---
---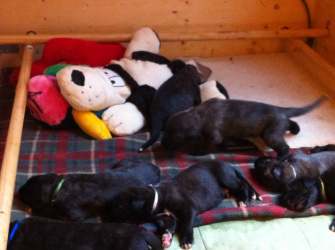 Hyperekplexia in Irish wolfhounds (Startle Disease)
A new genetic disorder in Irish Wolfhound puppies has only recently been discussed or studied over the the past 2 to 3 years. It may not impact the companion owner heavily as the puppies usually are diagnosed around 2 to 3 weeks of age. However, if you are considering breeding a puppy you've acquired it behooves you to educate yourself on all genetic diseases of the Irish Wolfhound, and it's critical to understand those impacting puppies when raising a litter. A puppy with startle disease will have a low birth weight, muscle stiffness, difficulty breathing and tremor upon handling. DNA sequencing done by Prof. Robert J. Harvey, PhD found that a deletion in the gene SLC6A5 caused the disorder. This is still a new disease for the Irish Wolfhound and currently under investigation. If you want to learn more about startle disease in Irish Wolfounds click on the link below.
More on Startle Disease in Irish Wolfhound Puppies
---
---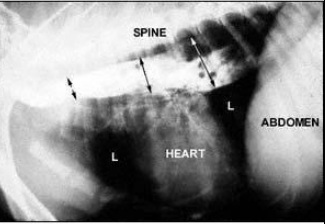 Megaesophagus in puppies
On occasion IW puppies are diagnosed with Megaesophagus. The Esophagus is a muscular tube line with mucous membrane that moves food from the throat to the stomach after it is swallowed. When a human or pet is diagnosed with a megaesophagus it means
the esophagus is, or has become, enlarged and the muscles weakened, reducing it's effectiveness to move food. The food gets caught in the esophagus and is often regurgitated. This regurgitation is often confused with vomiting and it's important to educate yourself on the difference. In vomiting the food is coming from the stomach and is often either digested or partially digested. The pet may show signs of nausea such as excessive salivation. He or She may begin to heave and their stomach muscles will begin to contract. In regurgitation the food is coming from the esophagus and the pet will often regurgitate undigested food without any warning signs whatsoever, vomiting is active and regurgitation is passive. It's important to note the difference for your Veterinarian as the two events have distinctly different causes.
In Megaesophagus the muscles of the esophagus fail to contract and move food into the stomach and it becomes trapped in the esophagus, this keeps the pet from utilizing the food and can cause weight loss and/or aspiration pneumonia. In puppies it is considered a hereditary condition caused
by a developmental disorder involving the nerve plexus in the lower esophagus. If you are purchasing a puppy be sure to ask the breeder about any concerns with megaesophagus in the pedigree. If you are considering breeding your puppy be sure to educate yourself about potential genetic disorders in the pedigree of your puppy prior to breeding. If purchasing a puppy make sure you spend time with the litter, avoid purchasing a puppy which is thin or failing to thrive. If you note a puppy eating enthusiastically only to regurgitate the food and eat it again then megaesophagus is a possible cause. If you want to read more on Megaesophagus in puppies click on the link provided below.
More on Megaesophagus in Puppies
---