Liver Shunt
​What You Should Know Before You Buy
Ierne's Go Down Gamblin'
​(Scarlett)
DOB:
​August 1, 2016

Scarlett is pictured here at 13 weeks post surgery to repair a perforated intestine secondary to her intrahepatic portosystemic shunt.

Scarlett is pictured here at 15 months. She is currently undergoing coil embolization to repair her intrahepatic portosystemic shunt.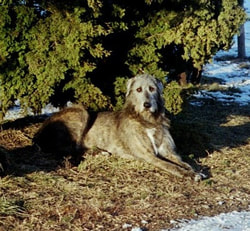 Shirey Sunkist Ni Ierne (Muirne)
In 2004 we whelped the first of two liver shunt puppies born to our lines. Our first, Muirne, is pictured to the left. She was over 6 years when this picture was taken. Our second Scarlett, was born August 2016 and her story isn't fully written yet. I'll add more about Ms. Scarlett later, but be assured, she's alive and well at 15 months. You can see various pictures of her above.

​Muirne was diagnosed at 7 weeks with an extra-hepatic liver shunt. We put her on a special diet to improve her physical condition so she would be healthy enough to undergo surgery at 9 weeks of age. The surgeon placed an ameroid constrictor ring around the shunt. The ring would slowly swell, constricting the shunt and closing it over time. This allowed Muirne's liver to recover and begin doing it's job of removing toxins, ammonia, and bacteria from her body. The surgery went well and Muirne lived to 8 years 6 months with normal liver values for the balance of her life. You'll find a picture of an ameroid contrictor ring at the bottom of this page. This page is here to help potential owners understand the importance of bile acid testing and liver shunt identification BEFORE a wolfhound puppy goes to his or her new home.

The procedure for repairing an intrahepatic shunt is called a Transjugular Coil Embolization. It is far more complicated and the puppy needs to be close to fully grown before the procedure is done. The liver and veins have to be well developed or the implants may slip and fail as the puppy grows. This procedure is done by placing a stent in the vena cava and small coils are dropped laparoscopically into the portosystemic shunt. The coils cause clots and scarring to form and slowly shut down the shunt over time. The potential side effects are seizures, portal hypertension or a bacterial biofilm forming around the implants. This procedure was initially developed in 2012 at the University of Pennsylvania by Dr. Chick Weisse. It's extremely difficult to get a wolfhound puppy with a heightened growth curve to an age where the stent and coils can be placed. It's a delicate balance between providing enough protein to support growth and risking high ammonia or bacterial counts that negatively affect the pup's health. The below diagram shows how the stent and coils work. ​

Everyone considering an Irish Wolfhound puppy should educate themselves on Portosystemic Shunts (liver shunt). This structural defect is congenital and genetic in Irish Wolfhound puppies. There are three types of shunts, intra-hepatic (inside the liver), extra-hepatic (outside the liver) and Extra-hepatic Multiple Acquired Shunts (small micro shunts outside the liver). The most common shunt in an Irish Wolfhound (and the most difficult to surgically treat) is the intra-hepatic shunt. All wolfhound puppies should be tested by their breeder prior to going home. If you are thinking of purchasing an IW puppy this should be on your "non-negotiable" list of expectations of your breeder. I'm telling you Muirne and Scarlett's stories so you can understand this can happen to any breeder, any time. We do not have a genetic marker for this disease and it's prevalent across most pedigrees. Some breeders will try and tell you that puppies with shunts will begin showing symptoms at 4 to 5 weeks of age and if they've made it past this point without becoming ill they are "clear" of liver shunt. This is sometimes true, but it's also sometimes NOT true. I've known puppies who have seemed perfectly healthy until as late as 10 to 12 months and then became ill and subsequently were diagnosed with a liver shunt. ALL breeders should test and ALL potential owners should hold them accountable. You'll spend as much as $3000 to acquire an Irish Wolfhound puppy, so what are you paying for? You deserve to know the breeder did their job by ensuring the parents and puppies are as healthy as possible. It isn't your job to pay for a new pool or car for the breeder, but it is their job to make sure your money is responsibly spent... You're paying for this testing to be done, make sure you get what you paid for. If your child came home and said "Sure, my homework is done" would you ask to see it or just say "Okay"? So why do you trust someone you barely know when they say, "Sure, the puppies are ALL healthy!" Trust... but verify.

The earliest puppies can be tested for shunt is 8 weeks of age, but due to how the liver develops testing later gives better results. My personal preference is to test close to the time the puppies are going home, so 10 to 12 weeks is usually when we test. If puppies are tested prior to 9 weeks there is a greater risk of the test showing the puppy clear of a shunt when in fact he or she isn't. I'll explain this later so you understand why waiting to test is important. You first need to understand a little about how the liver works and how shunts develop.

The job of the liver is to remove toxins from the body. If it isn't functioning, or functions poorly, toxins build in the body, eventually causing disease processes which will lead to death. If a liver shunt is caught early enough it can be either medically managed or surgically repaired, but even this is still not a guarantee of a positive outcome. The intrahepatic shunt, a blood vessel within the liver itself called the ductus venosus, carries blood from the newborn to the mother bypassing the newborn's liver. This is a natural occurrence in the puppy while in the womb. The mother's liver does the work of removing waste and toxins for her unborn infant; she is functioning for both herself and ALL of her puppies. The puppies' livers are growing and developing during this time and aren't prepared to take on the work load for their little bodies. The need of the mother to process all these toxins is yet another reason why proper feeding and deworming of the bitch is so important. You don't want to make her body work any harder during gestation than it is already.

The interior vein (e.g. the ductus venosus) normally closes off at birth, thus allowing the pup's liver to take over the job of removing toxins out of the body. If this fails to happen during development, then a congenital intra-hepatic shunt occurs. If the puppy's body forms an additional and unnecessary blood vessel on the outside of the liver (a congenital vein bypassing the liver on the outside), then this is called an extra-hepatic shunt. If this happens it won't matter if the interior vein closes, you'll still have a shunt moving blood around the liver instead of through it.

So, on to the shunts themselves; they are not all created equal. You can have a partial closure of the interior vein where the puppy's liver is doing some of the work of removing toxins, or you can have no closure at all. If you have no closure you will see signs of disease much earlier in the puppy's life, say around 5-7 weeks. If you have a partial closure, or an extra-hepatic shunt that is quite small, you may not see symptoms until a year of age or more. The reason for this is twofold. First, the liver of the puppy is initially quite large in comparison to the size of the puppy's body when it is born. The liver begins growing when the interior vein closes and is often fully formed by 2-4 months of age. This means you would not want to test earlier than 8 weeks when the liver is fully formed. Testing past 8 weeks decreases the risk of false negative results. The reason you sometimes get a negative result with a shunt in place is because the puppy's liver is quite large in relation to its body size and can compensate for a minor shunt for quite some time. This allows a minor shunt to remain "hidden" until the puppy's body has grown to the point where it can no longer compensate. In this scenario the puppy will not test positive until later in life, upwards to a year or even 18 months.

A reputable breeder should provide a bile acids panel on all wolfhound puppies prior to sending them to their new homes. The testing starts with a period of fasting, generally overnight, drawing a pre-feeding blood sample on each puppy, feeding a fatty meal, waiting two hours and then drawing a post feeding blood sample on each puppy. The two samples are sent to the lab for testing. The test analyzes the level of bile acids in each sample. If the post feeding sample is overly high a portosystemic shunt is suspected. Bile acids are removed from the blood in the liver by the liver cells, if these cells aren't functioning as they should the bile acids remain in circulation, raising the level of bile acid in the body's blood. Your breeder should be able to provide you with laboratory testing on each puppy showing normal liver values post feeding.

If you have purchased a wolfhound puppy and he or she has been diagnosed with a portosystemic shunt feel free to contact us. We're more than happy to share our experiences and provide emotional support. Caring for a liver shunt puppy is expensive, and getting a shunt repaired is even more so... but this doesn't have to be a death sentence, even for an Irish Wolfhound puppy with an intrahepatic shunt.
---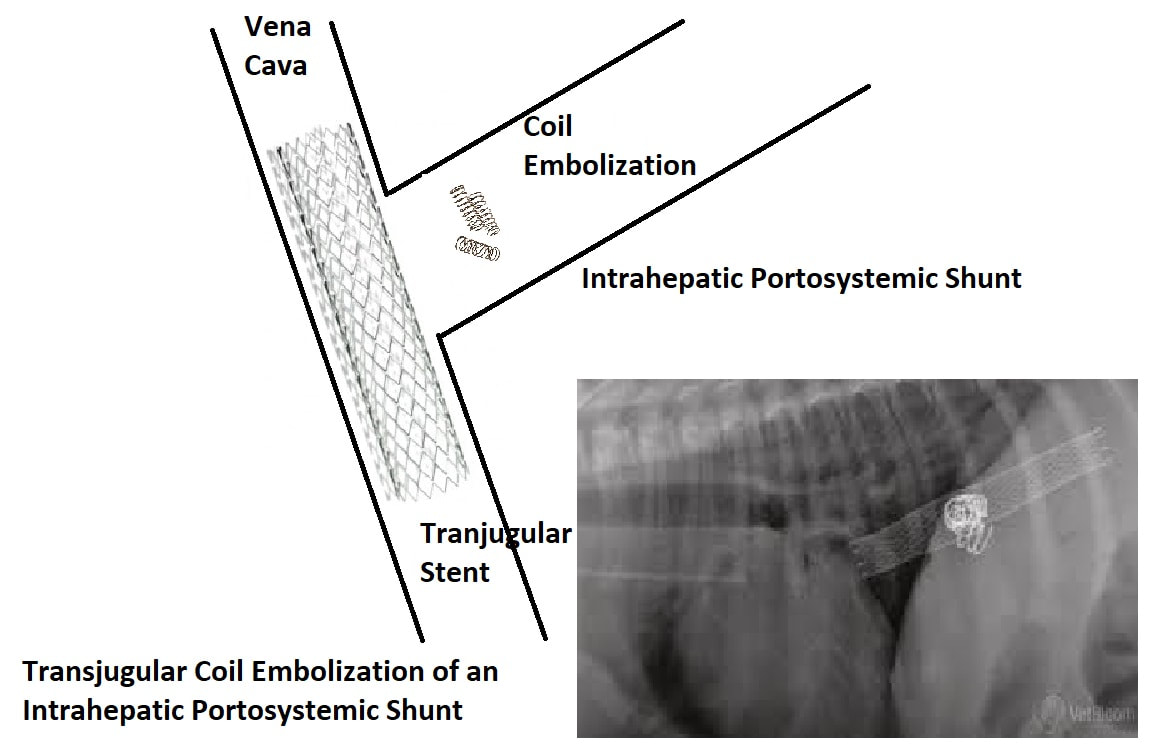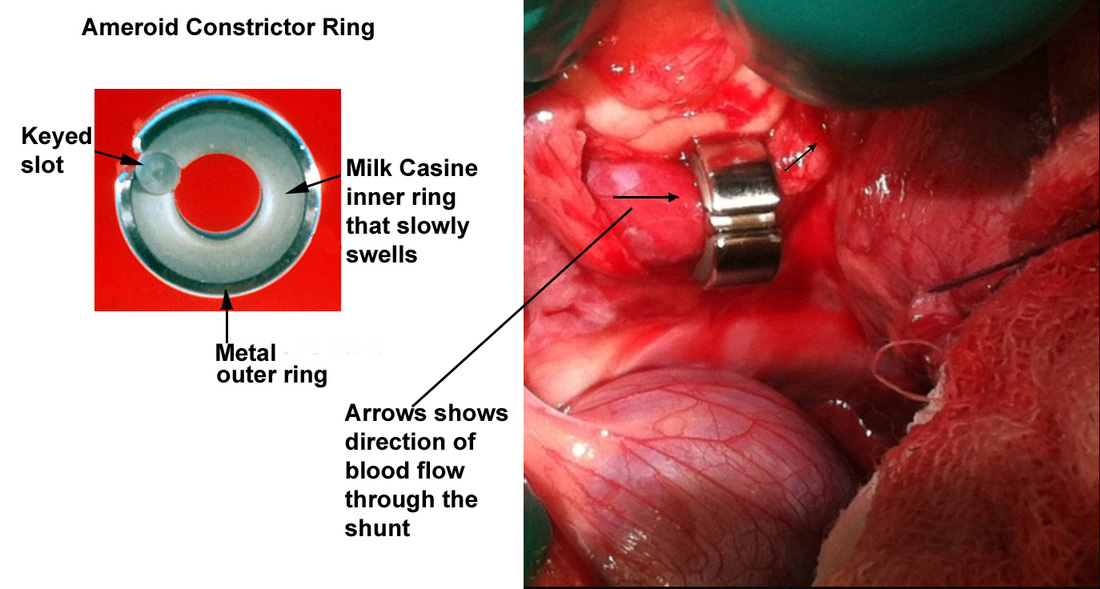 Muirne as a puppy and as an adult